Practical, dependable power is Jeep's focus in their latest vehicle remodels in the past years, creating more modern facades throughout their line that's city-slick and urban-chique.  Luxury is an odd thought when it comes to the rugged go-to mental image of old army Wranglers and conquering the wild trails, but don't let this new upscale flair diminish your hopes for a unique, backcountry unpaved adventure.  The 2019 Jeep Cherokee possesses all of the capabilities of its predecessors and the other SUVs of the Jeep line, with Trail Rated speciality, on-road sophistication, and decades of expertise going into the development of the 2019 model year's Cherokee.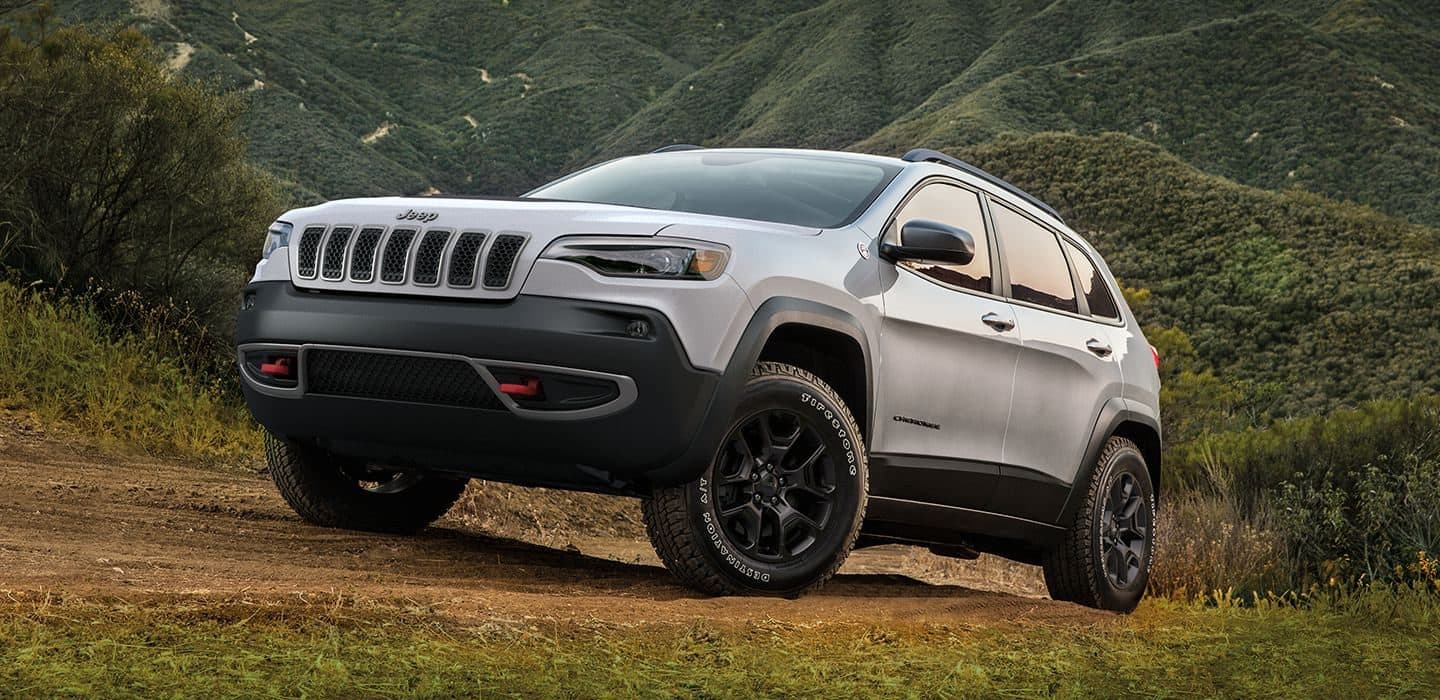 For the 2019 year, the Jeep Cherokee is offering three engine options to supply the power and efficiency you're looking for.  The addition of the 2.0-liter direct injection turbocharged inline four-cylinder supplies a powertrain that balances bother performance and fuel consumption.  270 horsepower and 295 lb-ft of torque churns through a nine-speed automatic transmission, and can tow up to 4,000 pounds. The maximum 23/31 mpg of this engine is enhanced with the addition of low emissions and Engine Stop-Start technology, which temporarily shuts off the engine when it's been braked for five seconds, such as at stop lights or in traffic.  There's no need to spend fuel while your idle, and the moments this system saves you really adds up!
The base 2.4-liter MultiAir2 Tigershark inline four-cylinder engine has been slightly refined to improve its efficiency without sacrificing its power.  This engine provides an easy going 180 horsepower and 170 lb-ft of torque to those who plan to use this vehicle more on the road than off. It's still capably built with available all-wheel drive and Jeep's standard Selec-Terrain drive modes to handle inclimate weather or difficult terrain, such as snow, mud, or sand, with an additional sport mode that improves performance and handling.  This system coordinates and optimizes up to twelve systems to enhance vehicle control and stability. Low emissions technology has reduced the CO2 output and has boosted the fuel-economy up to 7.5 percent.
The 3.2-liter Pentastar V6 engine is the most capable of the 2019 Cherokee offerings, and is the go-to offering of the Trail Rated Cherokee Trailhawk model (though the turbocharged four-cylinder is also offered with the Trailhawk for those who want better mpg numbers).  This engine produces 271 horsepower and 239 lb-ft of torque, delivering best-in-class 4,500-pound towing. This engine paired with the nine-speed automatic provides the driver with aggressive launches, smooth power delivery, improved economy, and great low-gear torque performance for those tricky grades and uneven terrain.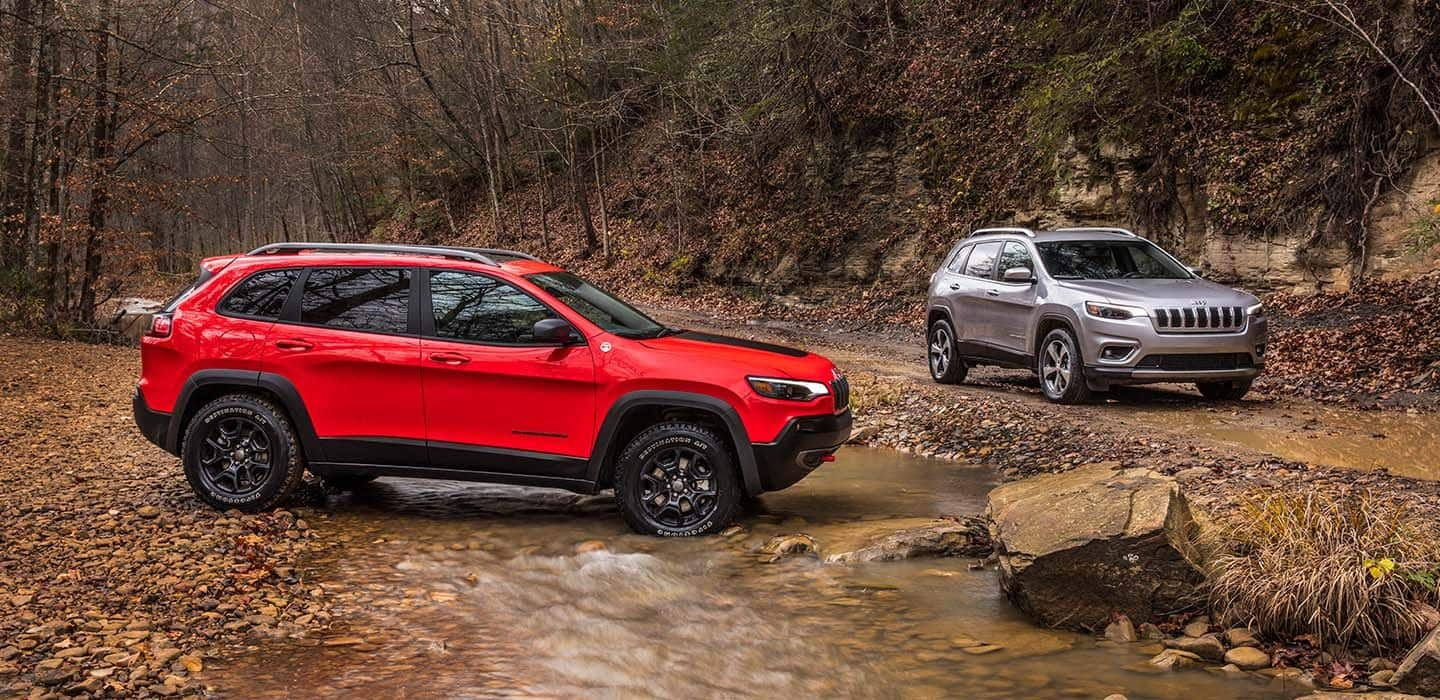 All models offer four-wheel drive, and come paired with a front independent suspension with MacPherson struts and rear independent multi-link suspension to smooth out any drive for superb passenger comfort.  The Cherokee's amazingly quiet ride is achieved with an isolated rear cradle, high-strength, low-alloy front crossmember, and superior torsional rigidity to enhance the handling and decrease noisy vibrations.  Whenever a vehicle doesn't need its 4x4 capabilities, the rear axle can automatically disconnect in order to switch to standard front-wheel drive in order to boost the efficiency of the Cherokee. This mid-size SUV's 4WD configurations' capabilities are specially tuned with Jeep's Active Drive systems to ensure all torque is being used to the fullest, even at low gears and speeds.  The provided 4-Low mode locks the front and rear driveshafts for continuous low-speed power and predictable performance.
If you're going to go off-roading, the Cherokee Trailhawk is the answer to refined class combined with maximized performance.  While all the Cherokee's 4x4 capabilities can tackle practically any weather or road condition, the Trailhawk is made to go above and beyond the norm.  Its Active Drive system is paired with a differential locking mechanism, maximizing low-speed traction by dividing the torque between the four tires in as-needed continuously fluctuating ratios.  This system is even capable of diverting one-hundred percent of produced torque to one tire, guaranteeing forward momentum. The Trailhawk also adds on Rock Mode to the Selec-Terrain drive modes, using the drivetrain control module, electronic brake controller, electronic stability control, transmission controller, and powertrain controller to be able to conquer the approach angles of 30 degrees, breakover angles of 23 degrees, and departure angles of 32 degrees.  Its running ground clearance of 8.7-inches can water ford up to 19-inches, giving the Cherokee Trailhawk some of the best traction, clearance, maneuverability, and articulation systems you'll find on the market today.
Interested in the amazing systems and promising driving experience of the 2019 Jeep Cherokee?  Legacy CDJR has a great inventory of Cherokees you can come in and look at today! Stop by or call ahead and schedule a test drive with us, and we'll be happy to accomodate you and any questions you may have about the 2019 Jeep Cherokee.