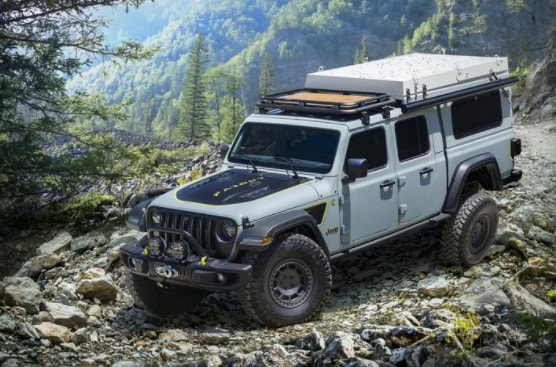 Gladiator Farout Concept Revealed
Brought to you by Legacy CDJR
Jeep has always been known for being at the cutting edge of innovation. Whether it's creating the latest SUV model, or bringing back a classic, you can never accuse Jeep of just riding their own successes. When it comes to the Gladiator, this large success has already proven that Jeep knew exactly what they were doing when they introduced it into the automotive market. Ever since it was first revealed, it has been dominating the midsize truck segment, and it still continues to surpass all expectations. A way in which to keep ideas fresh and fun is by coming up with fun concepts that push a vehicle to its extremes. Today we're going to be discussing one of the latest concepts out of Jeep, their Gladiator Overland Farout concept. Down below we'll go through some of the ways that Jeep has created a unique idea, and made us wonder what other ideas we might be able to expect in the future.
Why did they come up with this concept?
Any die-hard Jeep fan knows plenty about the Moab Easter Jeep Safari Event. You are also probably aware that it was canceled this year, due to everything going on in the world. This Farout concept was initially supposed to debut, and because no celebration actually took place, they did want to eventually put it out just because of how much they love it. The concept itself has been built on a previous concept, the Gladiator Wayout, and works hard to incorporate in customer feedback in order to give everyone a vehicle that they will most definitely remember. While there is no Moab this year, there's still the Farout.
What engine is featured in the Farout concept?
Power is always at the heart of the discussion when you're discussing a vehicle that was built with off-roading in mind. The Farout concept, therefore, gets the benefit of a 3.0-liter EcoDiesel V6 engine. This engine can get up to 260 horsepower and around 442 pound-feet of torque. You'll also find this system working with engine stop-start technology in order to make sure that you can save as much gas as possible. 
Can you tell me more about this Gladiator?
Of course! There's nothing more we'd love to do than go over what makes this concept so fascinating and fun. The main feature that you'll be the most curious about is a neatly contained, customized deployable roof-top tent. When this tent is open, it is 16-feet long by 7.5-feet tall, and it can open in just a matter of seconds. You can bring yourself and three other people along for the ride, as the tent sleeps four comfortably. Beyond that, this concept works hard to break away from the monochromatic look, and adds in wood-lined interior features, a fully functional refrigerator and stove, built-in seats, and even a tablespace. All of this to say, the Farout concept is homey, giving you outdoorsy fashion and style. 
Jeep Gladiator at Legacy CDJR
Here at Legacy CDJR, we have a great number of Jeep Gladiator models for your to choose from. No matter what you're searching for, this is an opportunity to own a vehicle that gets you off-roading capabilities, with great towing/hauling abilities. Stop in today and let us help you out!