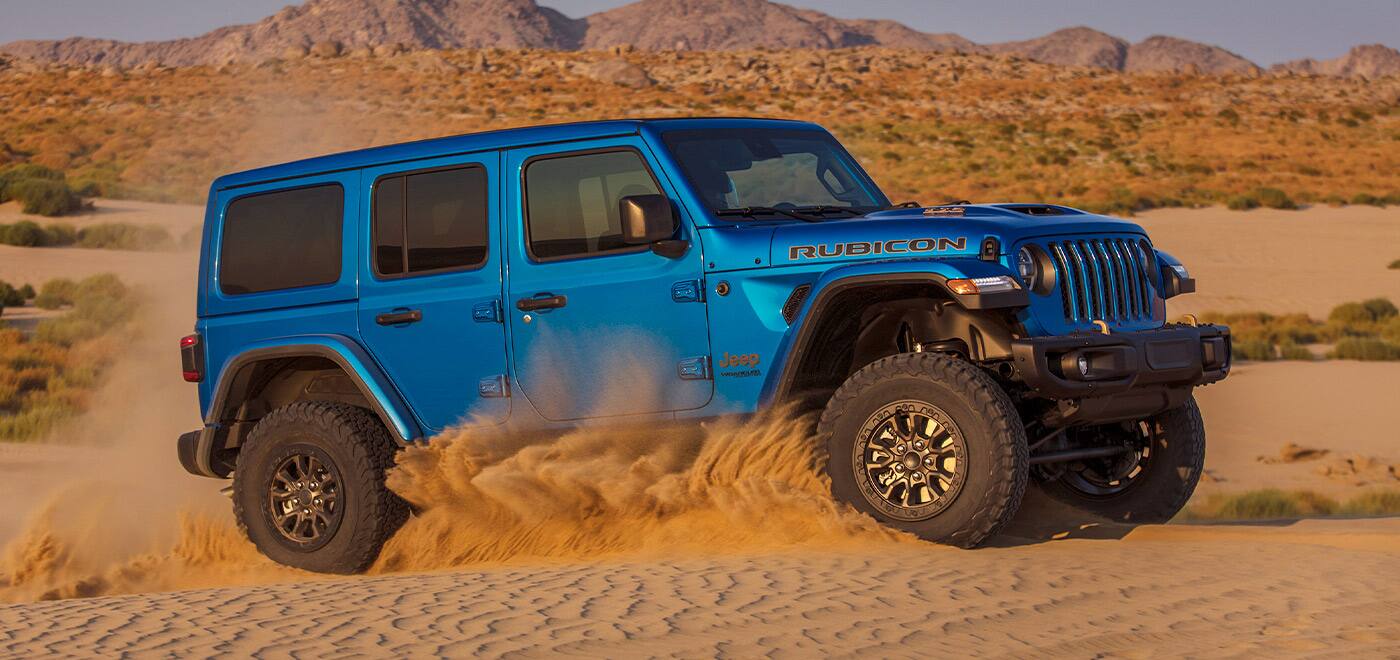 2021 Jeep Wrangler Rubicon 392
Brought to you by Legacy Chrysler Dodge Jeep Ram
Well, you asked for it, and Jeep has delivered. By now everyone should know to never count Jeep out, especially when it comes to capability and power. The 2021 Jeep Wrangler Rubicon 392 is an SUV that is ready to tackle the trails head-on with a kind of power that can't be matched by any other vehicle in the segment. Faster, more capable, there is nothing that the Rubicon 392 cannot accomplish. That is why we are determined to spend some time telling you more about why this is a vehicle that you should never be counting out. We at Legacy CDJR want to give you the latest information on what makes this vehicle so special. This will hopefully give you the opportunity to decide if this is the SUV that's right for you!
Can you talk about the power of the Rubicon 392?
The Rubicon 392 marks the first time in over 40 years that the Wrangler is going to be available with a V8 engine. This 6.4-liter (392 cubic inches) V8 is able to punch out 470 horsepower and 470 pound-feet of torque. Around 75% of the peak torque is available when the engine is around idle speed, which means that you'll be able to get an exciting performance. This includes going from 0 to 60 mph in just 4.5 seconds, or while you're crawling up steep grades on the weekends. Another major benefit to this entire system the Fuel Saver Technology, which includes cylinder deactivation. This enables you to save on fuel whenever it's possible. We also want to mention standard active dual-mode exhaust, along with the functional hood scoop. You'll never experience anything but excellence here.
What are the off-roading capabilities?
While we know that power is a big reason why people are tuning into the Rubicon 392, and rightfully so, that hasn't meant this Wrangler has sacrificed any off-roading abilities. In fact, you will still find a Selec-Trac full-time active transfer case. This transfer case is offering you four different driver-selectable modes, including 4WD Low, Neutral, 4WD High, and 4WD Auto. This system is intuitive, and allows you, the driver, to set it and then forget about it. You can even flat tow this model. Other perks here include Off-Road Plus with San and Rock modes, along with Selec-Speed Control that manages the vehicle's speed at all times while traversing different environments.
What are some of the design elements?
After checking out all of the power and capability, it's time to settle in and just enjoy how this Wrangler looks. Most of the design stays with the original themes, including the bold and functional cues, and the trapezoidal wheel flares. You'll also be enjoying bronze accents, including a Rubicon decal on the front, and a Trail Rated badge. The inside continues those bronze accents with unique bronze stitching. You'll even find premium features like a body-color hard-top, LED Lighting Group, a leather interior, and remote proximity entry.
2021 Wrangler Rubicon 392 at Legacy CDJR
You have been given the full tour of this impressive Jeep Wrangler model. A V8 engine proves that Jeep is never going to stop innovating and moving forward. There is no time to rest, not when Jeep has so much they want to accomplish. Now it's your turn! If this is the SUV for you, then you'll love the entirety of our Wrangler lineup. We hope to see you soon!